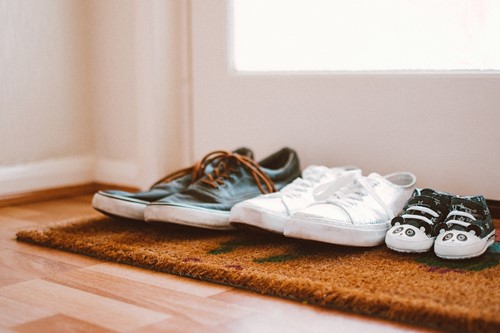 Image by Lisa Fotios via Pexels
If you're like many busy homeowners, the foyer of your home is sometimes treated as an afterthought. It probably contains functional items such as a coat rack and a place to put shoes, but it may lack the aesthetics necessary to provide an inviting introduction to your home. Fortunately, strategies exist designed to make the most of any foyer. Here are five to help you get started.
Wall Art
Wall art personalizes a foyer and makes it seem part of the home rather than simply being a transition area between the outdoors and the home interior. Paintings are a good choice, especially if you're able to position them in a way that makes them a focal point of the foyer. However, paintings aren't the only option — a gorgeous fabric wall hanging or a creative piece of metal art designed to be displayed on a wall will also work.
Warm Lighting
While it's important to have good ambient overhead lighting in your foyer for the sake of optimal visibility, secondary lighting provides a warm accent that welcomes both household residents and guests in the home. An attractive lamp on a table is a nice touch, but if your foyer doesn't have the room, consider installing a couple of wall lights.
Greenery
Adding a plant or two brings life to any foyer. If you feel you don't have enough natural light in your foyer to coax anything green to grow, keep in mind that houseplants such as Peace Lilies and Snake Plants thrive in environments with very little light. If you're lucky enough to have a foyer with a skylight, take advantage of this by hanging some beautiful Boston ferns. Have pets? Be sure to check that your plant of choice isn't poisonous to them.
A Small Seating Area
A small seating area in the foyer can function as a private reading nook, a place to remove or put on outer footwear during times of inclement weather, or simply a place to sit and relax for a moment or two after coming home from a long day at work. Even the smallest foyers can usually accommodate a single chair and a pint-sized table.
Scent
Aromatic pine cones in a basket, a scented diffuser discreetly placed on a table, or a plug-in air freshener in a warm, welcoming scent such as vanilla, cinnamon, or lavender provide a pleasant accent for those just walking in the door. Scented candles are an especially nice touch in the foyer on evenings when you're expecting guests.
If you've recently decided to put your home on the market, creating a welcoming entryway is more important than ever. Please feel free to reach out at your earliest convenience for more information on making the most of your home environment.